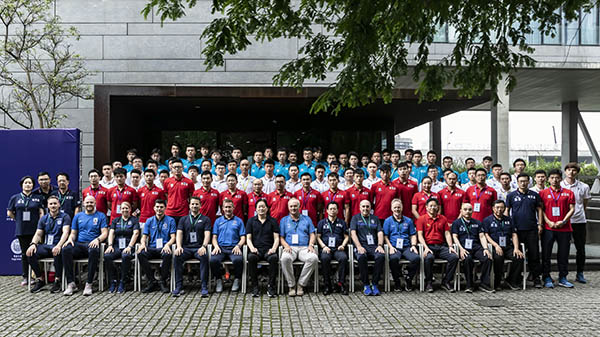 Reporter Mr Wei Wang reported from Shanghai by the Shanghai Municipal Education Commission, Shanghai Football Association, Tongji University, Dr Sun Yi Xian's Youth Foundation (UK), International Football College of Tongji University and Shanghai Campus Football League hosted the Sino-UK football education and culture seminar and English School football teaching programme training courses held on 15 July in tongji University enjoying the reputation of "100 years of football."
This is the second phase of the Implementation Plan of the Sino-UK School Football Project initiated and implemented by the Dr Sun Yi Xian's Youth Foundation (UK), the first seminar on football education held by the project (15-16 July) and the seventh training course for football teachers in England (17-23 July). Previously, Dr Sun Yi Xian's Youth Foundation (UK) successfully trained nearly 450 school football teachers in more than 10 provinces and cities across the country, including Shanghai and Zhongshan, between 2013 and 2018.
Professor Lei Xingxuan, Vice President of Tongji University, Mr Nelson Cheng, Chairman of Dr Sun Yi Xian's Youth Foundation, Chairman zhu Guanghu of Shanghai Football Association, Secretary General of the Football Branch of China University Sports Association, Professor Yu Songhui, Dean of International Football College of Tongji University, participated in this Sino-UK Football Education and Cultural Seminar.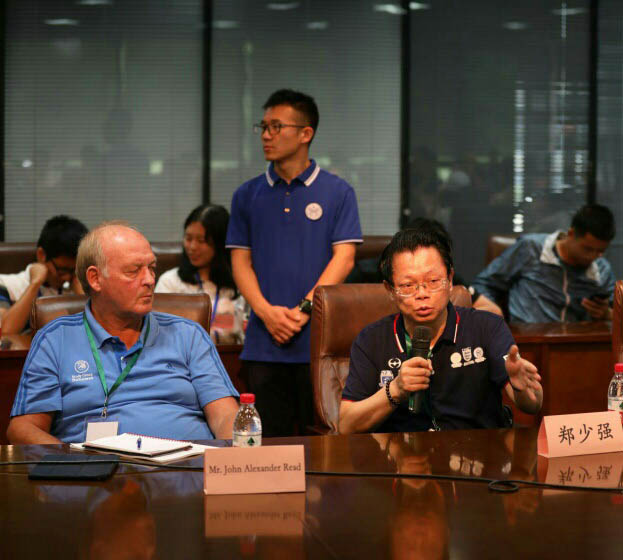 Former Executive Committee Member of the British Sports Management Committee and Chief Executive Officer of the English School Football Association. Now Mr. John Read is the Minister of Physical Education of the Dr Sun Yi Xian's Youth Foundation; former Minister of the Teaching Department of the FA, and now the Director of Football Education and Culture of the Dr Sun Yi Xian's Youth Foundation Mr. James Houchen (Jimmy); has coached football for many years at Ruskin University in Anglia, UK. Mr. Mark Armtiage (Mark) talked about "School Football Teacher Training and Teaching Material Application" and "The Core of Football Education in British Universities" at the seminar Keynote speeches were made on topics such as "Content" and "Sports Science in Football" respectively, and discussions were held with Chinese personnel. During the period, three English football experts, John, Jimmy and Mark, accepted an exclusive interview with our reporter on the rise of English men's football and English women's football in the World Cup, player naturalization, and youth talent training.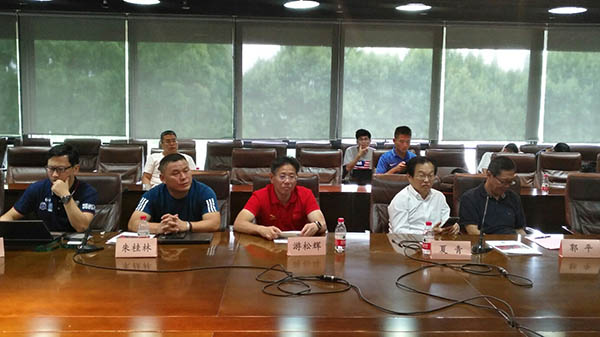 England's men's and women's football has only risen after ten years
"Football": In the just-concluded French Women's World Cup, the English women's football team finished fourth. Twenty years ago, the Chinese women's football team ranked top 2 in the world. The England team was still unable to compete with the Chinese team. In the last two Women's World Cups, the English women's football team came from behind. Chinese footballers will attribute this problem to institutional, cultural and other issues. How do you see this problem from your perspective?
Jimmy: Twenty years ago, coach Keeley in our team worked for the England women's football team. At that time, they were considering whether the concept of women's football training is appropriate. They found that the players' physical size was not tall enough in their specific practice, so they did scientific research. Coach-specific projects help players increase their physique. At that time, the project budget and the staff of the stadium construction, including sports science researchers, were only able to develop to the ideal position. It is necessary to identify clearly what level you want to achieve, what level you want players to achieve, and figure out your own ideas. There must be more capital investment. The researchers and coaches of British women's football are full-time. At that time, the women's football club had three echelons. There were many women participating in football, and they could participate in international competitions if they did well. The club is prepared for international competitions from the beginning, so the staff are full-time professionals. The study started with children under ten years old, and the plasticity is stronger. Twenty years have not only developed the country, but also developed in the school. Now there are U15 women's football matches, which is a very big development.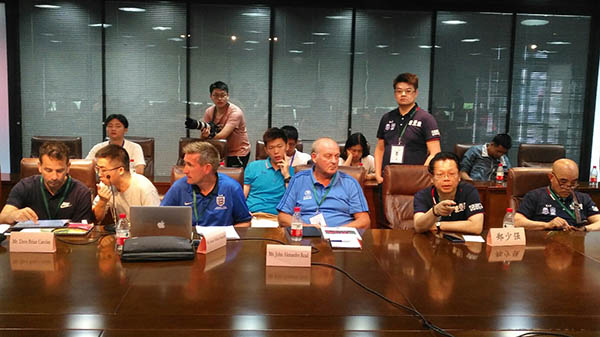 "Football": In fact, it is not only the English women's football. The English men's football reached the semi-finals in the Russia World Cup last year. The success of the English men's and women's football is not as simple as imagined?
John: I am very happy with the success of the English men's and women's football. Of course, this is not a short-term success. It is a result of ten years of hard work. Ten years ago, there were no girls playing football in the UK. At that time, the government adopted some policies and efforts to encourage more girls to participate. After this number is increased, they will have some plans to support education, from middle school coaches who understand physical fitness to Elementary school has given the children a qualitative leap in their physical fitness. Now the English women's football team has a very strong confrontational ability. This is a step-by-step approach through ten years of development. In 2006, the English Football Association made a systematic review to analyze what went wrong with the youth training of British football and what could be improved. Later, through guidance, the training copy and lesson plans slowly sink to the grassroots level, so that the grassroots coaches can understand how to train these children in a more scientific way, so the children in 2006 have now been kicked out.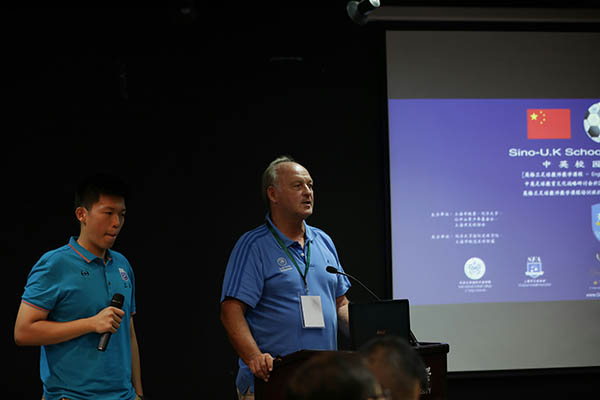 "Football": There is a famous Chinese saying: Rome was not built in a day. What was the process of success for the English women's and men's football?
Mark: I don't know what kind of philosophy China is. In the UK we have a very clear philosophy. When all our management bodies decide to do football, all of us know how to achieve this goal and move in this direction. Hard work. We have a very clear path direction, and everyone is working hard in this direction. Similarly, our British football is also more professional, which means that athletes have more time to train and better help children find their development paths.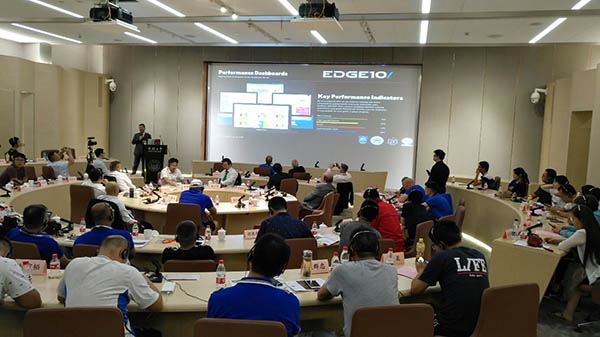 There are several people in our coaching team who were coaches of women's football. Many people think that it only takes three months or a short time to succeed. In fact, this is not the case. It takes a long-term process. Therefore, the philosophy of football is very different. Importantly, our success is achieved after a long time through continuous accumulation and hard work on the basis of others.
In my eyes, football is not a sport that can maintain a high level for a long time. We can see that the Spanish team and the German team have also had low points. It is difficult to win the championship, but it is even more difficult to maintain a high level. If you are the first, Everyone will analyze you. English can reach the semi-finals and will win the championship in the future. Teams like Spain and Germany will maintain a high level for a long time. These teams are examples for everyone to learn from.
I was fortunate to work with Southgate, Wenger, and Pochettino. Their character and style of play are very different. Pochettino likes to press in front, Wenger likes to control the ball, Southgate likes to use corner kicks, front Field breakthrough. Hope to have new inspiration through such different play styles, football is very complicated.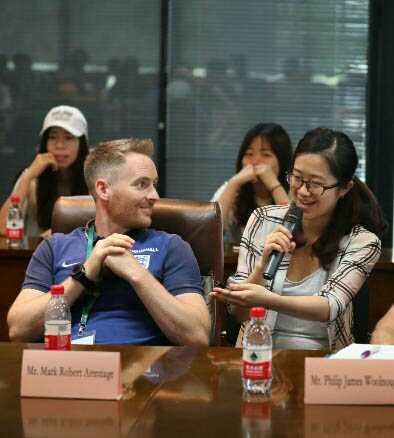 How did the originator of naturalization see the naturalization of Chinese football
"Football": It should be said that English and France football are the originators of naturalization. There are many players of different skin colors in the England and France teams. China is now also trying to become naturalized players. Regarding the issue of player naturalization, English What lessons can football experience?
Mark: There is a transitional stage in the UK where many foreign players have been introduced. I think naturalized players have pros and cons. The advantage is that the level of the game is higher; the disadvantage is that there are fewer opportunities for English players. But the naturalized players will still be strong, and many excellent players can still be selected. As the policy attracts outstanding athletes, it makes up for the lack of outstanding athletes before. Now English clubs will sign a lot of young athletes from other European countries, until they are sixteen or seventeen to see if they are eligible for naturalization. There are still many football players from different countries in English football. The good thing is that the football atmosphere is more open, but I think it is important to cultivate athletes with national consciousness.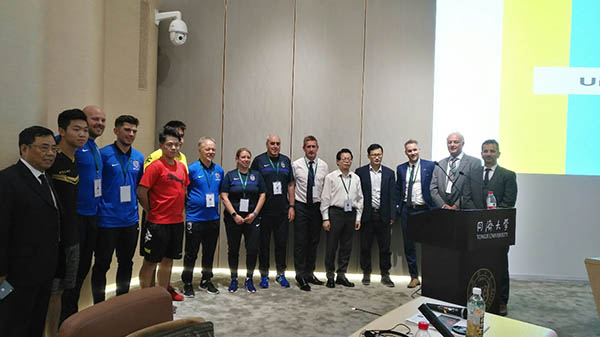 "Football": The United Kingdom is a country composed of people of different skin colors. Different historical development and environment have different patterns of formation, right?
Mark: Naturalized players are related to the national conditions of the United Kingdom. There are foreign employees and players in the United Kingdom. Our environment is like this. There are many foreigners together, so it is very common for us to foreigners working here. thing. But we must do a high-level balance, and we must have some skills that the English do not possess.
"Football": Mr. John Read, you used to be an executive member of the English Sports Management Committee. You directly formulated the rules of football and sports in England. What are the characteristics of the naturalization of European football that you know?
John: Actually the issue of naturalization is not a new issue. We also had this issue back then. There were also naturalized players in 1966, and the England team succeeded in the World Cup. But there are also examples of failed naturalization. It is the Italian team in the 1950s. There are two sides to casual naturalization. I think the best solution is to set a naturalization ratio in the national team.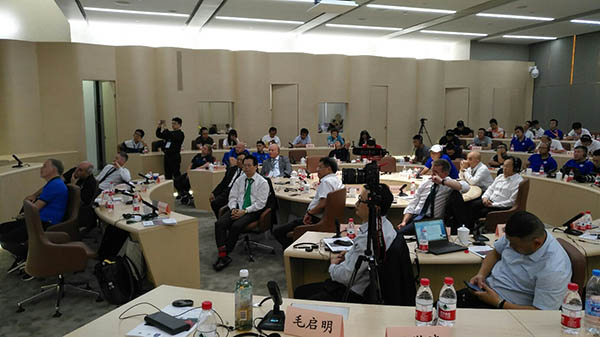 "Football": What is your view on the naturalization of non-bloods?
John: The issue of naturalization is clearly regulated in FIFA. My personal opinion is that it is okay to be naturalized with descent, because there is Chinese descent. If it is done by living time, such as an Englishman who lived in Shanghai for 10 years, and then he played for the Chinese team, I would not recommend it, because this person is not a Chinese at all. But in the final analysis, it is the Chinese Football Association to make the final decision. Even an athlete like Li Ke, no matter how good he is, he can choose not to be naturalized, depending on how the managers consider.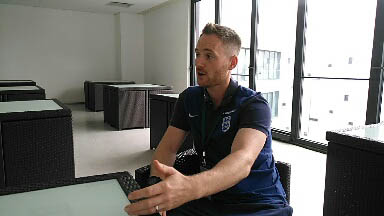 Teaching a child to play is not making him execute orders
"Football": Chinese football has different systems in the selection of coaches from youth national coaches to adult coaches. For example, the coach of one age group is the coach of Spain, the coach of the other age group is the coach of Belgium, and the national Olympic team is The Dutch coach and the national team is the Italian coach. What kind of impact will this system have on Chinese football?
Jimmy: I have noticed that China has communicated and cooperated with different countries every few months, and this development mode needs to be changed. If you can't learn from the Spanish and practice your body with the Germans, China must have a long-term development strategy. It will take at least ten years for such development to be effective. We have also noticed that Chinese children are not smiling when they play football, but are very scared in the game. A good youth training mechanism can change all of this, allowing a child to play against different teams every week. Having more experience in the game allows them not to be afraid of making mistakes and to grow up from making mistakes.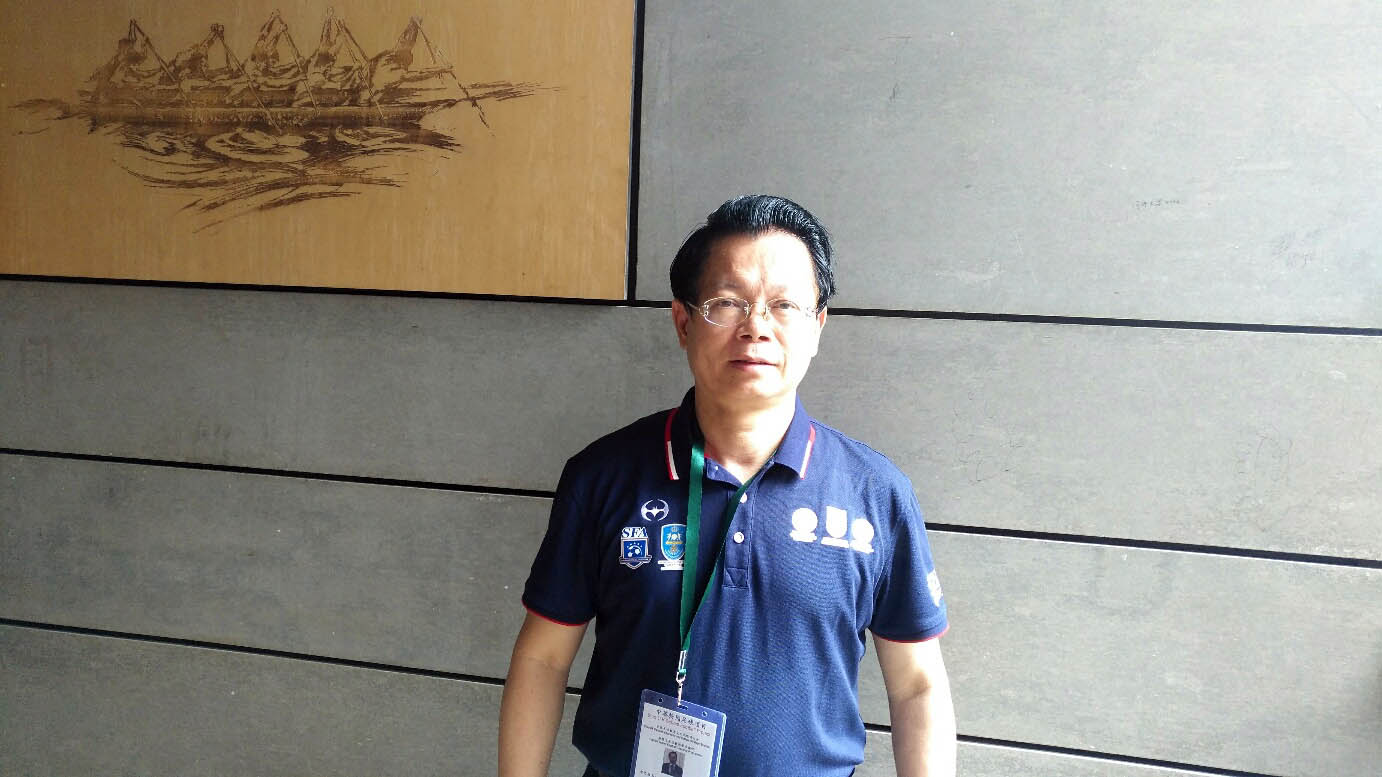 "Football": Chinese youth coaches are also confused, what is your philosophy?
Jimmy: We train school football teachers. The deep purpose is to let children aged 5-18 love to play football, so that every child can participate and find their own role. Our game is not only for high-level students, but also for low-level students to have balls to play. Our teachers must learn to understand children, tolerate their mistakes, and let them grow up from their mistakes. We want to make football teachers become children's facilitators, learn how to teach children and cultivate their personality. And the teachers must shift from copying Western ideas to independent innovation.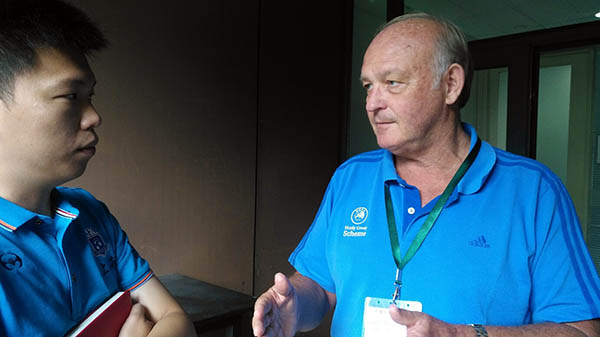 "Football": Not being able to learn to play with a smile is a psychological or mental problem. Is there a way to change this?
Jimmy: What is the problem with Chinese school football? Although we have taken many courses and designed various activities for children, one problem is that children are not smiling, they are very scared in the game, so a good one Our youth training mechanism can change all of this, allowing a child to play games with different teams every week. How to improve creativity instead of executing orders. Let the children make their own decisions and solve the problems of the court. If you keep passing the ball in a children's game, you will not be creative. You have to play on the court. Learn to control the ball, learn how to handle it, and don't be afraid of mistakes. With the decision-making ability, other issues can also follow. This is also a cultural issue, related to how to teach children.
On the other hand, it is also in the construction of psychological training: when you are young, if you have more experience, you will develop a psychological quality. If you realize that failure is inevitable, you will cultivate and let go of the anxiety about the result. The top players have poor technical and tactical skills. The real deciding factor is psychological quality.