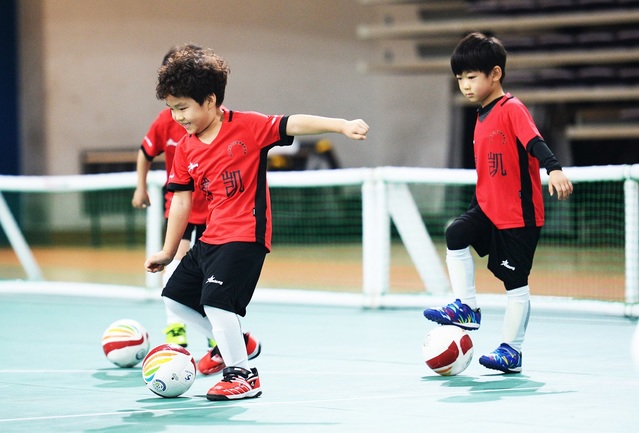 On 2nd December 2018, Beijing, 2018 the opening of the first National Children's Football Congress. Visual China Chart The opening of the first National Children's Football Congress 2018 in Beijing, China, 2 December 2018. Visual Chinese map
China Youth Daily Client News (China Youth Daily, China Youth Network reporter Cixin) The Ministry of Education recently announced that school football will be extended to young children's groups, this year plans to select the construction of 3000 football-specific kindergartens. This raises questions among some parents - what kind of football is suitable for young children? How will our school football enter kindergarten? A reporter from China Youth Daily and China Youth Network interviewed relevant experts on the issue.
According to the National Youth School Football Work Report (2015-2019) (hereinafter referred to as the "Report") recently released by the Ministry of Education, in March this year, the Ministry of Education decided to carry out a pilot work of football-special kindergartens. "Report" pointed out that the training of football talent, we should firmly grasp the 3 to 6 years of age to develop the key period of sports interests, habits, cognition and skills, respect the law, to play, interest-based, to guide all types of kindergartens to carry out a wide range of early childhood football activities. In 2019, the Ministry of Education plans to select and build 3,000 football-themed kindergartens.
So how exactly should toddler football be played? Mr Mark Armtiage, an expert on the Sino-UK School Football Project and an assistant professor at the University of Suffolk in the United Kingdom, recently told China Youth Daily China Youth Network that for children aged 3 to 6, all football activities should be based on games, and these games should be linked to the development of basic skills of agile, balanced and coordinated football. Allow children to make mistakes in football games and give them a relaxed environment in which they can learn and correct themselves, so that they have enough time to play football instead of overemphiming football training.
Mr Mark Armtiage was recently invited as a lecturer to attend the Sino-UK Football Education and Culture Seminar and the English Football Teacher Teaching Course in Shanghai, where he taught English football teaching methods to Chinese football coaches and school teachers, including a large number of fun football games.
In addition, football as a sport, the game is essential. Toddler football also needs to play. Mark Amtia believes that early childhood football should be played in small teams and mini-games, such as 2 to 2, 3 to 3. It's worth noting that early childhood football is also fun first, and coaches and parents can't stress the importance of winning or losing games for children of this age.
How on earth will the domestic school football extend to the children's group, the National Youth School Football Expert Committee member, Wuhan City, Hubei Province, Wansongyuan Road Primary School football teacher Deng Shijun recently to the China Youth Daily, China Youth Network reporter also stressed that the most important thing is children's football fun, "children like safe, colorful football environment, fun and competitive football games will make children happy physically and mentally." Early childhood football will have a certain proportion of football content, but will be more diverse and interesting."
It makes sense for football to start with dolls, says Mr Mark Armtiage, who says the UK's experience in developing early childhood football shows that children have more advantages from playing football from an early age than from later in life: "Children who are involved in football from an early age tend to develop their social skills and learning skills earlier and lay the foundation for their children's basic motor skills to participate in any group sport in the future." If they become footballers in the future, children who have been playing football since childhood will gain more advantages in their understanding of football and their mastery of football techniques. Mark Amtia stresses that as long as children aged three to six are provided with a football environment that suits them, there is no harm in their early exposure to football.
For some parents in China worry that when school football extends to the children's group, will not lead to utilitarian football also into kindergarten, Deng Shijun said that the evaluation criteria for young children's football is by no means the pursuit of match results, but should strictly follow the physical and mental characteristics of children of this age, the cultivation of sports habits and stimulate sports interest is the first.