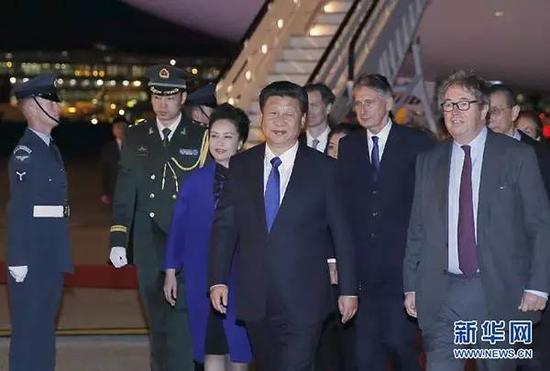 At 8pm local time, Xi Jinping's special plane arrived at London Heathrow Airport. Xi Jinping and his wife Peng Liyuan were warmly greeted at the airport by the Queen's representative, Viscount Hood and Foreign Secretary Hammond. British youth presented flowers to Xi Jinping and his wife.
On October 20, Beijing time, President Xi Jinping arrived in London, the capital of the United Kingdom, and began his state visit to the United Kingdom.
Xi Jinping extended sincere greetings and best wishes to the British government and people. Xi Jinping pointed out that both China and Britain have a long history and splendid culture, and have made unique contributions to the progress of human civilization. As permanent members of the UN Security Council and a country with important influence in the world, China and the UK share common interests and solemn responsibilities in maintaining world peace and promoting common development. This year marks the beginning of the second decade of the Sino-UK comprehensive strategic partnership. Deepening Sino-UK relations conforms to the fundamental interests of the two countries and their peoples and conforms to the development trend of the times. Xi Jinping looks forward to in-depth exchanges of views with British leaders on bilateral relations and major international and regional issues, extensive contacts with people from all walks of life in the UK, and joint planning of a grand blueprint for Sino-UK cooperation, so that the development of Sino-UK relations will better benefit the two peoples and promote world peace Stability and prosperity make new contributions.
London is the first stop of Xi Jinping's UK tour. Later, Xi Jinping will continue his visit to Manchester.
"Golden Age" is just a diplomatic concept? it's not true
The term "Golden Era" that sets the tone for the future of Sino-UK relations has become the headline of domestic and foreign media. Today, it has become the consensus of the two countries to forge a "golden age" of Sino-UK relations.
In an exclusive interview with Reuters, Xi Jinping stated that he would "join the "golden age" of Sino-UK comprehensive strategic partnership." The Chinese Ambassador to the UK Liu Xiaoming said that this visit will carry on the past and the future, and will usher in a "golden age" of Sino-UK relations. The term that has formed a consensus is by no means merely a diplomatic concept. The proposal of the "Golden Era" has both a foundation and a promising prospect. What "golden" opportunities will the "Golden Era" bring?
1. More Chinese companies are going out with big projects
Chinese companies are actively participating in the nuclear power plant construction project in southwest England. The British Chancellor of the Exchequer said that the high-speed railway No. 2 construction contract with a cost of 11.8 billion pounds will also be openly bid, and Chinese companies are welcome to invest. In the fields of nuclear power, high-speed rail, and automobiles, Chinese companies are strong in technology and capital, and have strong competitiveness in the international market.
2, "Belt and Road", Britain's participation brings global impact
Britain is not a country along the ancient Silk Road, nor is it a country along the "Belt and Road". However, the Northern England Revitalization Plan has many points of convergence with the "Belt and Road" initiative, and the UK is currently actively participating in it. From an international perspective, Sino-UK economic and trade cooperation goes beyond the bilateral scope and has a good demonstrative significance and global influence. The UK's first participation in the AIIB is a good example.
3, "London-Shanghai Stock Connect", investors may have new investment channels
In the seventh Sino-UK Economic and Financial Dialogue held last month, the two countries announced their support for the Shanghai Stock Exchange and the London Stock Exchange to conduct feasibility studies on interconnection issues. The concept of "London-Shanghai Stock Connect" attracted market attention. This has also brought greater imagination to the financial cooperation between China and Britain.
4. Going to the UK to study, there are more opportunities to increase the number of places
The UK is an important destination for Chinese students to study abroad. As of the end of last year, the total number of Chinese students studying in the UK has exceeded 150,000. The education departments of the two countries have reached an agreement to encourage and support more Chinese and British youths to study and live in each other's countries. Whether it is a public or an individual studying abroad, there will be more and more opportunities to study in the UK in the future.
5. You don't have to travel far, you can go to a British university at home
According to the Ministry of Education, Sino-UK cooperation in running schools started early. There are currently 17 cooperative education institutions and 240 cooperative education projects. The University of Nottingham Ningbo and Xi'an Jiaotong-Liverpool University have a good reputation in China, and they have close exchanges with local universities in the UK, and are welcomed by students. It is foreseeable that such opportunities will increase in the future.
6. See a doctor and enjoy British medical services
Britain has outstanding achievements in medical technology and clinical research. British scientists first discovered penicillin, researched and applied IVF technology. The National Health and Family Planning Commission stated that the British national medical service system and evaluation system have brought a lot of inspiration to China's medical and health system reform. In the future, Chinese people will be able to enjoy more British-style services when they see a doctor.
7. Cultivate a new generation of Chinese football stars
The UK has a profound football culture and rich experience in football development. In 2012, the [ Sino-UK School Football Project ] was launched and the UK provided training for Chinese grassroots football coaches. In the next 5 years, China will build 20,000 schools with football characteristics. More Chinese teenagers will be affected by soccer and improve the level of Chinese football.
8. Anti-corruption cooperation, so that corrupt elements have nowhere to escape
China and the UK have maintained good cooperation in jointly combating corruption crimes. The two sides have concluded a criminal judicial assistance treaty, which has laid a legal foundation for cooperation in combating corruption crimes. On the basis of the existing cooperation between China and Britain, if the two sides can cooperate more closely, it will definitely be a strong deterrent to corruption, and there will be fewer and fewer corrupt officials who regard Britain as a "safe haven".
Editor: Zhu Wei
Source: CNR