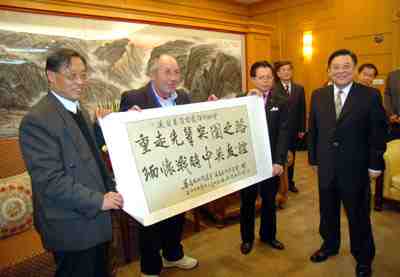 CCDA, CCGF presenting gift to H.E.R.O.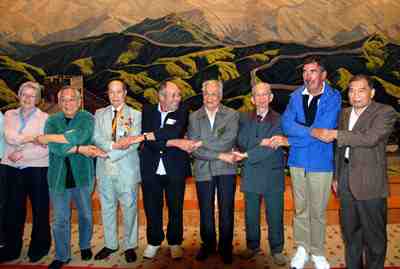 Group photo: representatives of H.E.R.O. and Society of Veteran of East River Column

Xinhua News (28 Dec 2009)  Hong Kong Escape Re-enactment Organisation (H.E.R.O.) organises nearly 80 descendants of the original escapees of British and Chinese officers and men from Hong Kong after the Japanese military attacks in 1941 to re-trace the steps of their forefathers at Christmas 2009.  The re-enactment group, age from 2 to 89, arrived at Shenzhen on 26 December 2009 and will finish their 4-days trip in Huizhou (Waichow), Guangdong.
H.E.R.O., the association formed by descendants of the original escapees, has planned the re-enactment with the help and advice of the China Culture Development Association, Beijing (CCDA) and the China Cultural Global Foundation (CCGF).
In this trip, the re-enactment group will aslo visit the old Command Centre of East River Column in Tuyang, the memorial hall of East River Column in Pingshan, the former office of British Army Aid Group. This re-enactment is believed to be able to strengthen the Sino-UK friendship established since the WWII.